The TAC can pay the reasonable costs of medical treatment, rehabilitation services, disability services, income assistance, travel and household support services that you may need as a result of your injuries from a transport accident.
The needs of every person are different, and the TAC looks at each case individually when determining what to pay. Whether a service is reasonable or not depends, in part, on whether the treatment or service is contributing to your recovery.
The case studies below will give you an indication of how the TAC may be able to help you if you've been injured in a transport accident.
Mark's Story
Hear from TAC client Mark about how the TAC assisted him in getting his life back on track after a transport accident

http://www.tac.vic.gov.au/__data/assets/video_file/0011/101081/Mark-Redo-08-1.mp4
http://www.tac.vic.gov.au/__data/assets/image/0017/101087/Marks-story.jpg
Show video transcript
I had my accident on 6 February 2012.
I remember flying through the air
and hitting the ground.
After that, the ambulance arrived and
had given me some kind of treatment,
and things became
very blurry after that.
I was in hospital
from the beginning of February
until the end of May in 2012.
And that includes
my hospital and rehabilitation.
The TAC came to me
when I was first in hospital.
I think when I was able
to communicate properly,
it was in the first few days
post-surgery.
I was so relieved when I was given
the news that there was
some kind of assistance
for my situation.
The help from TAC started
when they were giving me
loss of earnings payments.
They were helping me with transport to
and from my appointments.
My GP, my physiotherapist,
my occupational therapist.
When I got out of rehab,
I had follow-up appointments to make
sure that I was in the right posture,
I was in the right chair,
I had the right equipment...
..related to my paralysis.
The TAC gave me full support
during the time of my compensation.
They were assisting me
by paying for my medication
that was related to my injury.
So, pain management.
If I had any worries,
I had access to a psychologist,
which was also paid for by the TAC.
And with my
psychologist, we talked about
how I was dealing with my injury,
and we even were able to come up
with problem-solving solutions
of how I was functioning daily.
So, I was really appreciative,
because...
..all my doctors,
my appointments, my...
..a lot of my lawyer fees
were paid for.
From finalising my claim with TAC,
I received a lump sum of compensation,
but that wasn't the end of the line.
There was no complete
cut-off from the assistance.
The TAC still provide me with some...
..help around the home.
They still pay for
my medical appointments,
and help me get to and from
my medical appointments as well.
I'm no longer working for the bank.
I'm now studying anatomy
and physiology...
..with hopes of making my way to
become an occupational therapist.
I want to be able to...
..work in an environment where
I can help other people
overcome traumatic injuries.
Annie's story
In 2012 Annie was injured while travelling as a passenger in a car driven by a friend. Annie suffered bruising, cuts to her face, a broken tooth, a sprained ankle, whiplash and a strained shoulder. Annie was taken to her local GP for immediate treatment.*
Annie's GP told her about the TAC and advised her to call and make a claim. Annie lodged a claim with the TAC over the phone that day and was given information about how the TAC would assist in her recovery. Annie received confirmation that her claim was accepted and information about the services that were available to her in the post shortly after lodging her claim. She also discussed with her GP what services would help her recover.
Annie's GP sent Annie for x-rays and a CT scan and a nurse at the GP clinic dressed her wounds. The district nurse visited Annie twice a week to change and dress the wounds until they healed. Annie also visited the emergency dental hospital to have work done on her broken tooth.
Because Annie suffered a sprained ankle and strained shoulder her GP certified her as unfit for work for a few weeks. Annie was also feeling quite a lot of pain from her injuries, so her GP prescribed pain killers. During the two weeks Annie had off work the TAC paid 80% of her wage (except for the first five days, which the TAC cannot pay for, but which were covered by her sick leave).**
After a week of rest Annie started physiotherapy to get moving again, and saw the physiotherapist twice a week. The physiotherapist set Annie exercises to do at home; and together they set short, medium and long term recovery goals.
After two weeks Annie was getting about better and was keen to get back to work. The TAC rang Annie's GP who recommended going back to work part-time initially. An occupational therapist assessed Annie's workplace and made recommendations to ensure a safe return to work three days a week. The TAC contacted Annie's employer and arranged to pay the employer the difference between Annie's full-time salary while Annie was working part-time.
While Annie was getting about better, she was still feeling a lot of pain and experiencing anxiety when she travelled in a car. Her GP referred her to a psychologist and changed her pain medication. The psychologist saw Annie for several months and worked with her to develop strategies to manage her anxiety, including taking anti-anxiety medication and implementing a driving strategy.
After a month of working part-time Annie felt comfortable to return to work full-time. Her sprained ankle and strained shoulder also healed well, and Annie started to self-manage her injuries – seeing the physio only when she experienced a flare-up.
Six months on and Annie feels like life is back on track. She no longer receives treatment for her accident injuries, but occasionally visits the psychologist when she feels a little anxious.
* Because Annie didn't attend hospital as an inpatient the TAC's medical excess applied. For more information about the medical excess see the 'Medical Excess' page of this website.
** Limits apply, for a full explanation of income support see the 'Income Assistance' section of this website.
Greg's story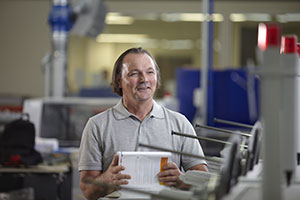 Greg was driving his car and crashed into a tree at high speed. Greg sustained multiple fractures to his right leg and ribs, internal bleeding, a broken pelvis, memory loss, an open cut to the skull and loss of sight in one eye. Greg was flown by ambulance helicopter to a trauma hospital where he underwent emergency surgery to stop the internal bleeding and set his broken pelvis. The following day he underwent further surgery to pin his broken leg.
Because Greg was an inpatient in the hospital the TAC's medical excess did not apply*.
While Greg was in hospital a patient liaison officer informed him about the TAC and lodged a claim on his behalf. Greg's claim was accepted within a few days and he received information about the services that were available to him shortly after.
After spending a week in hospital Greg was discharged to a rehabilitation hospital for a further week. At the rehabilitation hospital Greg started physiotherapy to keep his muscles moving and also learnt how to manage a wheelchair until his pelvis and leg healed.
While Greg was in the rehabilitation hospital the TAC arranged for an occupational therapist (OT) to visit his home and assess how suitable it was for Greg in his wheelchair. The OT agreed that with some minor modifications and coping strategies Greg would be able to return home.
Greg was discharged from hospital and the TAC arranged for a nurse to visit him regularly to assist with showering and dressing, as well as changing his bandages.
Greg continued rehabilitation as an outpatient for two months until his leg and pelvis healed and he was able to walk again. Over this time Greg couldn't work so the TAC paid 80% of his average weekly earnings**.
After his outpatient rehabilitation program finished, Greg started seeing his local physiotherapist twice a week. He also saw his GP regularly to track the progress of his recovery. Greg was in a lot of pain and was taking pain medication, as well as anti-inflammatory medication. Because the pain wasn't subsiding, the TAC discussed the option of a pain management program with him. Greg's GP provided a referral and Greg attended a pain management program three months after the accident.
Greg was still experiencing issues with his broken leg so the TAC suggested that a follow-up appointment with his orthopaedic surgeon may be beneficial. After being sent for x-rays and CT scans Greg needed further surgery. He spent another few days in hospital and was on crutches for four weeks. Greg underwent physiotherapy after the surgery but gradually reduced this as he recovered.
After five months Greg was ready to return to work but unfortunately his job was no longer available. The TAC arranged for Greg to see a vocational provider who helped Greg find another job. A vocational assessment was done before Greg started work, and the employer agreed to some changes to Greg's work station to ensure he was safe and comfortable working.
12 months after the accident Greg still suffers occasional episodes of pain but is completely self-managing his injuries. He takes pain medication intermittently and occasionally sees a psychologist but feels like he's on the road to recovery.
* For more information about the medical excess see the 'Medical Excess' page of this website.
** Limits apply, for a full explanation of income support see the 'Income Assistance' section of this website.