http://www.tac.vic.gov.au/__data/assets/video_file/0003/207633/Driver-think-rider-rider-think-driver-web.mp4
http://www.tac.vic.gov.au/__data/assets/image/0008/207683/MOTORCYCLES_380x214_TAC_Web_For_Video.jpeg
http://www.tac.vic.gov.au/__data/assets/file/0009/207684/TAC-Looking-Out-V3-Mix02.wav
Show video transcript
Video transcript
We open on a tight shot of a woman behind the wheel as she calmly looks around. The camera is filming her in super slow motion.
She looks left and right.
As she does this, we hear a man's voice say:
On the road we are all good at looking out for the things that could hurt us.
We then see her expression turn into one of complete shock. Her hands slowly start to shake as they come to her face and she begins to scream a silent scream.
We then hear a voice say:
But we're not as good at looking out for the things that we could hurt.
We slowly pull a little wider to see people gathering around something beside her car. Through the group of people, we see a motorcycle on its side.
We then see the words,Driver think rider. Rider think driver. and finish on the TAC and Towards Zero logos.
End of the transcript
YouTube Version
Audio description file
Driver think rider. Rider think driver
Too many motorcycle riders are dying or being seriously injured on our roads - and it is the responsibility of all of us, both drivers and riders, to change this. Motorcyclists make up 1% of total road traffic, but 19% of all road user deaths. We're asking both drivers and riders to look out for each other on the road as we all work Towards Zero lives lost and serious injuries on our roads.
In 2016, 7 in 10 (71%) motorcyclists lost their lives in metropolitan Melbourne.
Motorcyclist lives lost in Victoria 1987 - 2016 Melbourne metro and rural Victoria: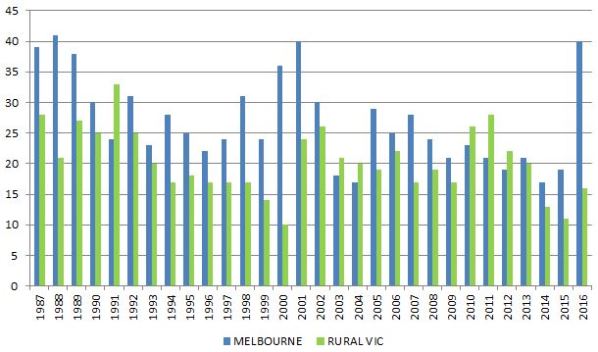 For explanations of accident types, please see the Crash type data page.
Motorcycle crash locations Melbourne metro vs. rural Victoria:
| Location | Lives lost 2016 | Serious injury 2015/2016 |
| --- | --- | --- |
| Melbourne | 40 | 649 |
| Regional Victoria | 16 | 428 |
| Unknown | 0 | 65 |
| Total: | 56 | 1142 |
The Driver think rider. Rider think driver campaign aims to reduce the number of deaths and serious injuries involving cars and motorcyclists on Victorian roads. The number of lives lost on Victorian roads has increased by 13% in 2016, with 20 of the 27 additional fatalities involving motorcyclists.
Drivers and riders have a shared responsibility in ensuring one and other's safety. Here's how you can help.
Drivers:
Remain vigilant at all times and be on the lookout for motorcyclists in their vicinity.
Always use indicators when turning or changing lanes
Use mirrors and do a head check when changing lanes to make sure blind spots are all clear
Provide motorcyclists with sufficient room to move
Make eye contact or acknowledge riders so they know they've been seen.
Riders:
Ensure you are visible to drivers through correct road positioning.
Wearing a helmet and suitable protective clothing when riding can significantly reduce the risk of serious and fatal injuries.
ABS braking technology could increase the rider's likelihood of death or serious by 31% (VicRoads)
For more information on motorcycles rider safety head to : www.spokes.com.au