The Transport Accident Commission is urging racegoers to plan ahead and avoid pushing their luck at Geelong's St Patrick's Day Cup.
The TAC will be trackside at the Geelong Racecourse on Saturday helping racegoers to make a smart bet and ensure they get home safely.
TAC Engagement Senior Manager Megan Jacobs said planning a safe way home should be racegoers' first priority.
"We want everyone heading out to the races in Geelong to have a great day out and that includes getting home safely to their loved ones," Ms Jacobs said.
"It can be hard to keep track of how much alcohol you've consumed during race day, so the best way to ensure you make it home safely is to completely separate drinking from driving," she said.
Ms Jacobs said any level of alcohol in a person's system impairs their judgement and their ability to drive safely.
Research shows drivers with a blood-alcohol level of .08 are five times more likely to have a crash than before they started drinking. At 0.12, their crash risk has increased tenfold. Even a blood alcohol content of 0.02 can impair the ability to judge distances and see moving lights correctly.
"Country race meets are always a fun day out and we know everyone will already know how they'll be spending the race day. If that plan involves drinking, it needs to include a safe way home," Ms Jacobs said.
"Planning ahead takes the guess work out of getting home and ensures a happy and safe end to a great day out," she said.
On the day, the TAC team will be set up at exit points and track side providing free breath tests as well as giving out free water and sharing information with punters on how to get home safely by planning ahead.
Ms Jacobs said everyone had a role to play in reducing the number of people being seriously injured and killed on our roads.
"We all need to take responsibility for our actions and look out for each other on race day if we want a future where no one dies or is seriously injured on our roads."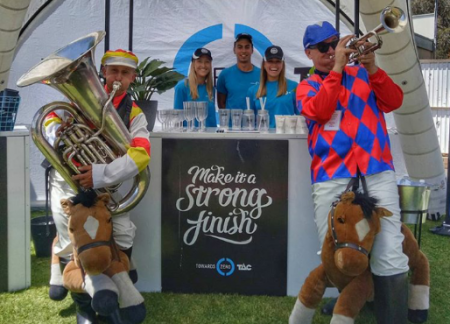 Contacts
Media queries only:
Please refer any other enquiries to: