Road safety will be front and centre as the Melbourne International Comedy Festival kicks off its annual Roadshow across the state, supported by the Victorian Government.
Victoria's Transport Accident Commission has again partnered with the Melbourne International Comedy Festival Roadshow and will this year use its presence to remind regional audiences of the dangers of drink driving.
The TAC's efforts to promote road safety as part of the Roadshow come as the number of lives lost on Victorian roads this year has surpassed 100, sitting at 116 compared to 86 at the same time last year. So far in 2023, 70 people have died on regional roads.
Drink driving remains a major factor in Victorian road trauma, including in regional areas, and while most people know the dangers and do the right thing, close to 1-in-5 drivers and riders killed are over the legal limit.
The TAC first collaborated with the event in 2017, in an effort to highlight road safety issues in regional Victoria where people are consistently overrepresented in road trauma.
TAC Acting Head of Marketing, Communications & External Affairs, Kylie Grzybek, encouraged attendees to work together to ensure everyone has a safe and enjoyable night out.
"A great night out with friends is something we all look forward to, but it's important to remember that it's never worth risking your life or someone else's by drink driving. If you choose to drink, don't drive."
"We all have a role to play in reducing road trauma, and the TAC's continued partnership with the Melbourne Comedy Festival Roadshow allows us to connect directly with audiences across Victoria on critical road safety issues."
Throughout this year's Roadshow, the TAC will encourage attendees to completely separate drinking alcohol from driving, using its new tagline 'All jokes aside. If you drink, don't drive'.
With less public transport available in regional towns, driving is a common option when getting to and from events. The TAC is asking people who plan to drink alcohol to nominate a driver who isn't drinking or, if they need to drive home, avoid drinking alcohol altogether to ensure everyone gets home safely.
As part of the collaboration, residents of selected show locations will have the opportunity to enter a draw to win tickets to their local performance, along with a chauffeured ride to and from their home in the TAC 'LOL Mobile' accompanied by a participating comedian.
The TAC and the Festival have also collaborated to deliver an online content piece which will roll out across Victoria alongside the Roadshow. It encourages audiences heading out for the night to plan ahead, and ensure they have a safe way home if they plan to have a few drinks.
The Roadshow kicked off at the beginning of May, with a line-up of 26 shows across regional Victoria up until the start of July.
Upcoming locations on the tour are Mildura, Echuca, Mansfield, Blackburn, Shepparton, Wangaratta, Wodonga, Bendigo, Horsham, Hamilton, Colac, Warrnambool, Portland, Wonthaggi, Sale and Bairnsdale.
For tour locations and show times, visit the Melbourne International Comedy Festival Website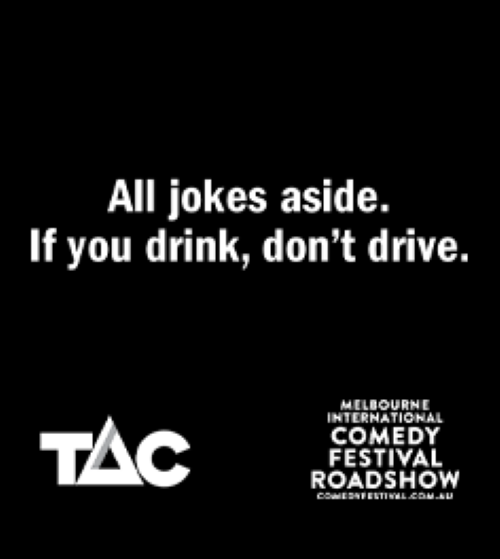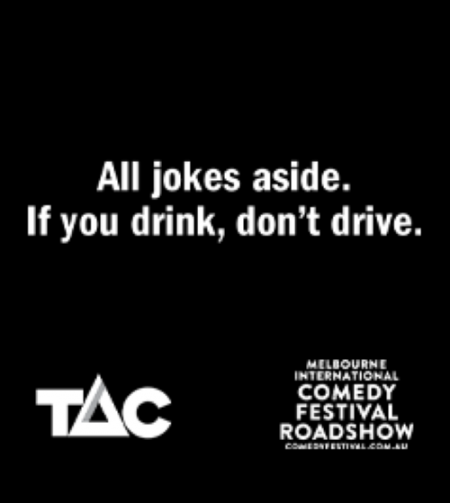 Contacts
Media queries only:
Please refer any other enquiries to: