26 Jan 2017
In an effort to reduce cyclist road trauma, the Transport Accident Commission has partnered with this weekend's Cadel Evans Great Ocean Road Race to promote the road safety message.
With 8 cyclists losing their lives on Victorian roads last year, the TAC is asking riders and drivers to share the road and take responsibility for each other's safety in 2017.
Cyclists are 34 times more likely to be seriously injured than vehicle occupants and 4.5 times more likely to be killed in a crash, according to TAC figures.
TAC chief executive officer Joe Calafiore said Victorians could expect to see the number of two-wheeled road users swell over coming weeks.
"With the warmer weather comes more bikes, cars and motorbikes on the roads so we are asking everyone to be aware of this and think about the decisions they can make to keep each other safe," Mr Calafiore said.
"Whether this means cyclists thinking about the route they take or motorists being more conscious of cyclists, it's up to everyone to look out for each other."
Between June 2015 and June 2016, 423 cyclists were hospitalised after incidents on Victorian roads. 50 remained in hospital for longer than 14 days.
"Our bodies simply were not designed to survive impacts at the speeds we regularly travel at and this is even truer for riders, who don't have the benefit of vehicle safety features like airbags and seatbelts," Mr Calafiore said.
We would like motorists to always look out for cyclists and keep a safe distance from them. It's equally as important that riders ensure they are highly visible, choose the safest route, be alert and predictable."
"We're working with cyclists and drivers to remind everyone that the choices they make can help us achieve our goal of zero deaths on Victorian roads," Mr Calafiore said.
Matthew Keenan
https://www.tac.vic.gov.au/__data/assets/video_file/0004/210766/Feature-Mkeenan-Full-1-web.mp4
Peta Mullens
https://www.tac.vic.gov.au/__data/assets/video_file/0018/210771/Feature-Petamullens-Full-1-web.mp4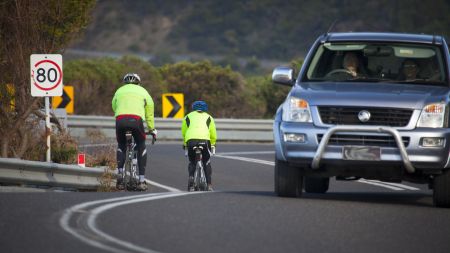 TAC is asking riders and drivers to share the road and take responsibility for each other's safety
Download Hi-Res
Contacts
Road Safety and Marketing queries, please call 5225 6281
Media queries only:
Please refer any other enquiries to: