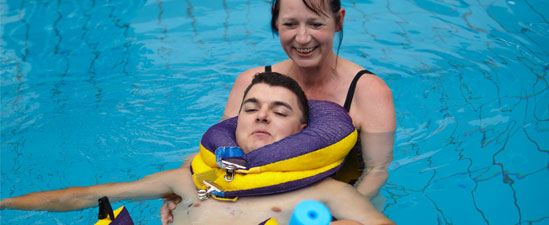 If you're injured in a transport accident we'll help you get back on track
You probably know the TAC for our road safety campaigns, but perhaps you didn't know that if you are ever unfortunate enough to be injured in a transport accident, we're here to fund treatment and support services.
If you're injured in a transport accident on Victoria's roads the TAC can provide support to assist your recovery. This support can include:
medical and rehabilitation treatment,
income assistance,
travel and other related expenses, and
lump sum compensation.
Read case studies that outline some of the ways the TAC may be able to help with your recovery.
This support is funded by the TAC charge you pay as part of your vehicle registration each year with VicRoads.
Frequently Asked Questions
Who Can Claim
The TAC covers transport accidents directly caused by the driving of a Victorian registered car, motorcycle, bus, train or tram. The TAC can provide support services for people injured in a transport accident as a driver, passenger, pedestrian, motorcyclist, or in some cases, a cyclist.
You must make a claim to the TAC within 12 months of the accident occurring or 12 months of the date the injury first manifests. In some cases the TAC may be able to consider a claim outside of this time limit if you are under the age of 21, or it is made within three years of the date of injury and there are reasonable grounds for the delay in making a claim. These time limits are set out by TAC's legislation and we are not able to accept claims outside this time frame.
For more information on who can make a claim visit the 'What to do if you've had an accident' or 'Who can claim' sections of this website.
How to Claim
Once you have checked if you're eligible to claim, there are a few steps to go through before your claim can be assessed.
Step 1: collect all the information you'll need for us to assess your claim, including accident details, the police report, details of any witnesses, etc. See a full list on the 'What to do if you've had an accident' page.
Step 2: call the TAC to lodge your claim. A trained TAC staff member will take all the claim details over the phone to help you lodge your claim. The TAC will then make a decision within a few days and let you know if your claim is accepted.
For a comprehensive overview of the claims process see the 'How to claim' section of this website.
The TAC charge
Part of the registration payment for each vehicle registered in Victoria goes to the Transport Accident Commission. This charge appears on your VicRoads renewal notice as 'TAC Premium' or 'TAC Charge'. The transport accident charge is used to fund the work of the TAC in preventing accidents and supporting those who have been injured on our roads.
The TAC Charge is calculated depending on the purpose of the vehicle (passenger vehicle, goods vehicle, motorcycle, etc.) and the postcode where the vehicle is usually kept (risk zone). For information about the charge, including how it is calculated, visit the TAC Charge page of this website.
The Medical Excess
The TAC applies a medical excess to most claims. If you were admitted to hospital as an inpatient because of your accident injuries the medical excess does not apply. If the medical excess applies to you, you are responsible for the first $629* of your treatment costs performed outside of hospital.
You can pay the first $629* of treatment yourself, or you may be able to meet the cost by claiming through Medicare or your private health insurer. For example, if you see your family doctor for your accident injuries you can claim the cost of this visit through Medicare and still use the full cost of your visit towards the medical excess.
Once you have received treatment to the value of $629* (even if it was paid for by Medicare or your private health insurer) the TAC can start paying for further treatment.
For more information visit the 'Medical excess' section of the website.
* This medical excess amount is for accidents after 1 July 2016. This amount may change yearly, as it is sometimes indexed according to the Average Weekly Earnings (AWE).
What the TAC can pay for
The TAC can pay the reasonable costs of medical treatment, rehabilitation services, disability services, income assistance, travel and household support services that you may need as a result of your injuries from a transport accident.
The needs of every person are different, and the TAC looks at each case individually when determining what to pay. Whether a service is reasonable or not depends, in part, on whether the treatment or service is contributing to your recovery.
View a list of what the TAC can pay.
Read case studies that outline some of the ways the TAC may be able to help with your recovery.
Forms and Brochures
To view a list of all the TAC's information sheets, brochures and forms see the 'Forms and brochures' section of this website.
Complaints
If you are dissatisfied with our service, a good place to start is to speak to the person you have been dealing with as they will understand your issue. If you don't feel comfortable with that you can:
ask to speak to their manager, or
use the TAC complaints form. This form can be sent to the TAC via mail, fax or email.
Translation Services
For More information about the TAC in your own language, call one of the numbers listed here
Arabic - 1300 138 639
Cantonese - 1300 138 640
Croatian - 1300 138 641
English - 1300 139 076
Greek - 1300 138 642
Italian - 1300138 643
Mandarin - 1300 139 071
Persian - 1300 556 945
Russian - 1300 139 072
Spanish - 1300 556 975
Turkish - 1300 139 073
Vietnamese - 1300 139 074
All other languages - 1300 139 075