Return to work videos
In these videos, we meet TAC clients who have made a successful return to work.
Robbie's story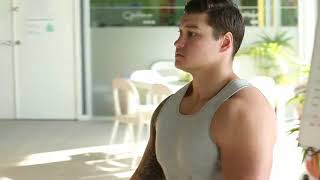 Robbie: TAC sent out a return to work specialist, Meredith, and she came out and we went over all the things that I might...would like to do or have already tried.
I decided to do my personal training, because I wanted to help other people in the same situation as me.
So, I looked up courses so I could get my Cert III and IV. There was a six-month course that I did.
And I think that was very hard for me to do that as well, because I felt like when I went there I thought, oh, you know, people would be thinking, "Why is he here?"
But it was the complete opposite, really. I was more of an inspiration to other people, and they thought, um, you know, "If he can do it, of course we can do it."
And I finished my Cert III and IV.
I work out of a gym now, so I work out at Optima. I have one wheelchair client. And he just wants to build up muscle again.
And I have two kids. So, one is a gymnast, and I've got another young fella I do that is a runner.
And I have three matured men, who just work on weight loss.
Returning to work has been, yeah, absolutely fantastic. I wish I did it earlier. I moped round for too long, and I wish I didn't do that.
I wish I just got up and just got straight into it.
TAC client Robbie talks about what he did to be able to get back to work. He also speaks about the benefits of his return to work.
Julius' story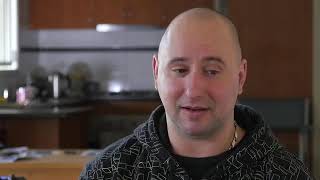 Julius: For the last few years I have been doing voluntary work at AMES. Because I believe that that's something that's a pretty good ongoing challenge that leads me to being productive.
It looks really good on my resume. So, I believe that's prepared me to go back to work.
At AMES, I deal with people from various other nationalities and backgrounds, like, from all over the world, and basically help them with conversational English.
It's been very beneficial to me, because I find it stimulating and a little bit challenging and rewarding, because the people that I work with at AMES, they have very varying degrees of English ability.
Working is important for my independence because if I don't work, then I cannot be independent to the level I would like to be. So, that's just something I feel as though is very important for me, my development, and my career progression, even.
I just figure, since work was such a part of my life previously, to feel like a valid and important member of society, I think not going back to work was never an option, because I feel as though going back to work is indeed a good, wonderful and important thing.
And that's just a further way I can continue to validate myself as a human being with a reasonable amount of mobility and motivation, and that's what I'm shooting for.
Julius talks about the benefits he gets from returning to work. He explains how it helps him be independent and why that is important to him.