Mental health - digital resources for TAC clients (webpage)
Common reactions to a transport accident can include distress, anger, fear, low mood or guilt. These feelings can sometimes be overwhelming and affect how you go about your day-to-day life. If you are experiencing these emotions, there is help available.
A digital mental health service can provide an easy, effective alternative to seeing a health professional in person. For some people this can be more comfortable than talking to their GP or other health professional. Others may not have the time to go to a session in person.
Digital mental health services provide information, support and resources. This includes:
programs
apps
online support communities
web chat
email, and
telephone counselling.
Research shows that digital mental health services are an effective way to prevent and treat ill mental health. They can be very effective for anxiety and depression. They are accessible at any time, discreet and most are free or low-cost. If there is a cost, please contact the TAC before using a resource.
How do I use digital mental health services?
You can use digital mental health resources on their own or in combination with face-to-face therapy. Some programs are for use on your own, while others offer professional guidance as you move through the program.
The skills you learn in these programs can also help to prevent mental health problems.
You should always seek advice from your doctor or other qualified health professional for any questions you may have about your situation.
Who should use digital mental health services?
These programs may benefit you if:
You feel depressed, anxious, sad or fearful.
Something's not quite right with your thoughts, feelings or behaviours.
Your alcohol or drug use is increasing or out of control.
You're experiencing a personal crisis.
You're having trouble adjusting after your accident.
You're motivated and willing to manage your own mental health.
More and more people are using digital mental health services because they are easy to access and can be used in any setting.
The Head to Health website is an excellent first step to find a range of digital mental health services and resources. Trusted Australian providers deliver these services and resources.
Situations where you might need to seek professional support:
Your symptoms are not getting better.
You experience severe depression, anxiety or have a post-traumatic stress disorder.
You take high doses of pain medications.
You have limited English skills or have difficulty reading.
You are having thoughts of suicide or self-harm.
10 Top Tips for mental health education and management
Be patient with the registration process – you only have to do it once!
If the program you are doing asks you how you are every time you log on, you usually have an option to skip it. But, if you answer, you can get important information about your progress.
Set aside a specific time in the day and the week to work on the program. Treat it like you would an appointment with a professional.
Keep a notebook or journal to record your thoughts as you progress through the course.
Download or print out, resources and other things you might want to refer to. You might like to take screenshots of things that are important and paste them onto a document of your own.
Don't try and do the program all at once. Give yourself time to do the exercises in each program and to think about what each part means to you.
Set yourself goals each week to work on between sessions.
Ask for help if you have trouble with any of the content.
You can involve a supportive friend or relative in your use of the program. It's good to have someone to talk to about it and they might benefit from it too!
Don't expect to see immediate benefit. It takes time for new ideas to grow.
Digital mental health services
Courses
MindSpot
Cost: free
Website: https://mindspot.org.au/
MindSpot offers free courses that can help you manage anxiety and depression discreetly by combining educational and practical exercises with therapy. With your consent, MindSpot can provide updates on your progress to your GP.
Courses cover:
Managing depression and anxiety
Overcoming symptoms of Post Traumatic Stress Disorder (PTSD)
Helping adults (18-64) manage symptoms of stress, anxiety, worry and low mood.
Managing pain
There are specific courses for Indigenous Australians, young people and people over 60.
---
This Way Up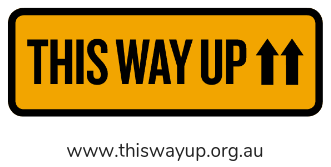 Cost: Wellbeing courses (i.e., Coping with Stress, Managing Insomnia, Intro to Mindfulness, and Student Wellbeing) are free.
Treatment courses (e.g., The Depression and Anxiety Course) normally cost AUD $59 for 90-days of access when used as 'self-help', but can be accessed for free when prescribed to you by your regular health professional (e.g., your GP or psychologist) if they're registered with THIS WAY UP.
If you need to register and pay for the course, you can send us your receipt for reimbursement.

Website: https://thiswayup.org.au/
A referral can be obtained from your GP or other mental health professional. Your GP can register online and prescribe a course that's right for you.
Using cognitive behavioural therapy principles, This Way Up offers proven online courses for conditions such as depression, anxiety, post-traumatic stress disorder (PTSD), mindfulness, chronic pain, social phobia, panic and agoraphobia and Obsessive Compulsive Disorder (OCD).
You can also access self-help courses on your own.
Free - Multilingual resources now available at This Way Up
These resources support the mental health and wellbeing of Culturally and Linguistically Diverse (CALD) communities. The evidence-based resources have been translated into 10 different languages.
https://thiswayup.org.au/coping-and-resilience-tools/multilingual-resources/
---
moodgym
Cost: Free
Website: https://moodgym.com.au/
Moodgym is an interactive program based on Cognitive Behaviour Therapy and Interpersonal Therapy. It is structured as supported self-help to manage and reduce symptoms of anxiety and depression. It consists of five interactive modules which include:
Exercises and quizzes
Summaries
Workbook
The program is intended for users 16 and older and mild to moderate symptoms of depression and anxiety. There is a screening tool for new users; if symptoms are judged as more severe, users will be directed to speak to a health professional.
The program is available in English and German.
---
Websites
Head to Health
Head to Health can help you find digital mental health services from some of Australia's most trusted mental health organisations. Whether you are trying to improve your own sense of wellbeing, looking for help with something that is bothering you, or helping someone you care about, Head to Health is a good place to start.
---
Beyond Blue
https://www.beyondblue.org.au/
Beyond Blue equips you with the knowledge and skills to protect your own mental health and gives you the confidence to support those around you to talk about mental health. Beyond Blue break down the barriers that stop people from speaking up and reaching out and offer a range of mental health supports.
---
Better Health Channel
https://www.betterhealth.vic.gov.au/
Provides easy to understand information about mental health and wellbeing.
---
Black Dog Institute
https://www.blackdoginstitute.org.au/
The Black Dog Institute aims to create a world where mental illness is treated with the same level of concern, immediacy and seriousness as physical illness. The website has online resources to help you or someone you know become mentally healthier.
---
Telephone support services
Amber Community
1300 367 797
Provides free phone or face to face counselling and support for people affected directly or indirectly by road trauma. Open 9am to 5pm. Call to make an appointment
---
Beyond Blue
1300 224 636
https://www.beyondblue.org.au/
Provides depression and anxiety support for all Australians.
---
Lifeline
13 11 14
Lifeline is a national charity that provides people experiencing a personal crisis with access to 24 hour crisis support and suicide prevention services.
---
SANE Australia
1800 187 263
Monday – Friday 10am – 10pm
SANE Australia is a national mental health charity making a real difference in the lives of Australians affected by complex mental health issues. They can provide telephone or online support.
---
Suicide call back service
1300 651 251 (for people in Victoria)
https://www.suicideline.org.au/ (Victorian service)
Free 24/7 Telephone and online counselling (online chat and video chat available) for those affected by suicide in Victoria.
1300 659 467 (Australia-wide)
https://www.suicidecallbackservice.org.au/ (Australia-wide)