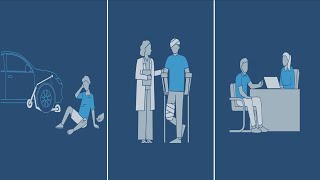 When you treat a TAC client, follow the TAC Clinical Framework. For patients injured in a transport accident, this set of five principles can help achieve the best possible health outcomes.
1: Measure and demonstrate the effectiveness of treatment. Use standardised outcome measures and act early when measurement indicates delayed recovery.
2: Adopt a biopsychosocial approach. Consider all risk factors that could slow down recovery, including mental health and social factors. Refer in a timely manner to appropriate disciplines.
3: Empower your patient to manage their injury. Avoid ongoing provision of passive therapies, set expectations with your patient and help them develop self-management strategies.
4: Implement goals focused on optimising function, participation and return to work. Use SMART Goals to support recovery.
5: Base treatment on the best available research evidence. Keep up to date with best practice to ensure your treatment has the best chance of success.
The TAC will regularly review treatment and services and may request a treatment plan like the Allied Health Treatment and Recovery Plan. This is where you will need to demonstrate clinical justification as it relates to the Clinical Framework.
For details, visit tac.vic.gov.au/framework