Local Government Areas (LGAs) in Victoria have the opportunity to apply for funding for small-scale infrastructure treatments to address pedestrian and cyclist safety under the Local Government Grants Program. This Program aims to:
Provide opportunities for LGAs to develop and implement low cost, effective infrastructure treatments targeting cyclist and pedestrian safety issues.
Road Safety in Victoria
Crashes are a major cause of death and serious injury in our community and all road users have a responsibility for making our roads safer.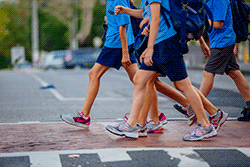 Key Government organisations work together on the Towards Zero 2016-2020 Road Safety Strategy and Action Plan. These include: TAC,VicRoads, Department of Justice and Regulation, Department of Health and Human Services as well as support from other bodies, in particular, Local Government, the Department of Education and Early Childhood Development and the RACV.
Local road safety issues are often best dealt with at a local level. Local government, working closely with local communities, is well-placed to identify specific problems, especially for walking and cycling, and to devise and implement infrastructure and speed-based solutions. Community-based road safety programs that integrate with Victoria's broader strategy are important in reducing road trauma.
Local government is a key contributor to the achievement of road safety targets across the State.
Information about road safety, cycling and walking in Victoria can be found online:
What projects will be funded?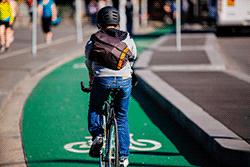 Projects can take a number of forms:
Low cost infrastructure treatments, which address cyclist and/or pedestrian road safety issues in your local community, and are based on sound research and/or established road safety principles
The trial of innovative treatments, including evaluations safety treatments (where practicable, injury-based evaluation should also be considered)
Analysis of pedestrian and cyclist road safety issues and risk factors. Outcomes of the analysis will provide the basis for potential road safety measures and design processes
For additional ideas and guidance, the current 'Austroads Guide to Traffic Management Part 8: Local Area Traffic Management' may assist grant applicants in developing proposals. The guide can be accessed at: www.onlinepublications.austroads.com.au/items/AGTM08-08.
How much funding can the LGA apply for?
The TAC will fully fund issue analysis activities, to a maximum cost of $25,000.
For projects entailing the implementation of infrastructure solutions, the TAC will fund to a maximum of $100,000, with contributions on a 1:1 basis with local government.