Community Road Safety Grant Program
This grant program encourages Victorians to improve road safety issues in your local community as laid out in the Victorian Road Safety Strategy 2021-2030. Grants are provided to local not-for-profit community groups and other community organisations. Projects that support vulnerable road users (people walking, riding bicycles and motorcycle riders) will be prioritised.
2022 program FAQs
When are the grants available?
Open: 9:00am Monday 10 October 2022
Close: 3:00pm Wednesday 9 November 2022
2022 program guidelines
The TAC Community Road Safety Grant Program guidelines provide information about the program focus, application and assessment process, grant management and reporting requirements.
If you are considering applying for a grant, please ensure you have read the guidelines before commencing your application.
Pre-application support
We recommend you take up the pre-application support and discuss your project with the Road Safety Programs Team before submitting your application. If you would like to discuss your project, please get in touch with the road safety programs team on crsg@tac.vic.gov.au.
As per the TAC Community Road Safety Grant Program Guidelines, all projects relating to the purchase of Variable Message Signs (VMS) and Community Road Safety Strategy and Actions Plans must align to the project specific guidelines.
NOTE: Please ensure you are familiar with the 'What will NOT be funded' section of the program guidelines.
What funding is available?
The grant program offers grants of up to $30,000 (ex. GST).
How do I apply?
Applications are to be submitted and managed online through SmartyGrants, our online grants management system.
You can begin an application when the round opens on Monday 10 October. Apply here on the SmartGrants website.
Who is eligible to apply?
To be eligible for funding you must be Victorian based, financially viable and one of the following:
Incorporated community association
Community trust
Not-for-profit
Social enterprise
Charity
Local school
Local government authority
If the organisation is unincorporated (does not have an ABN or incorporation number), it will need an auspice. An auspice is an organisation that meets the eligibility criteria and will receive the money on behalf of the applicant. The auspice will be accountable for the expenditure of funds and responsible for reporting and delivery of the project.
To be eligible for a TAC Community Road Safety Grant, the project seeking funding must:
Be delivered within 12 months of the project start date (completion by 31 December, 2023)
Align to the 2022 Program Focus benefiting vulnerable road users.
Follow project-specific guidelines (if applicable)
Not have been previously been funded by the TAC
Not align to any of those projects listed in the 'What projects will not be funded' section.
NOTE: This program does not provide funding for permanent infrastructure treatments. Local Government Authorities looking to undertake such projects are encouraged to look at the TAC Local Government Grants Program.
Who is not eligible to apply?
Individuals
Organisations who are primarily for-profit, including businesses
State government departments / organisations (excluding schools).
Pre-application support documents
Contact us
For more information, or to discuss this grant program, please email the Programs Road Safety Team crsg@tac.vic.gov.au
Acknowledgment
The TAC is grateful to Land Transport New Zealand for permission to use material from the New Zealand Community Road Safety Program in developing the guidelines.
Previous project examples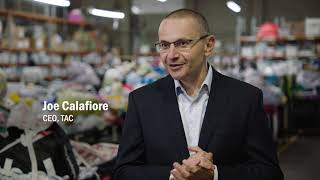 St Kilda Mums - Travel Safe project
As part of the TAC's Community Road Safety Grants 2021 program, St Kilda Mums, a not-for-profit organisation, has received funding for its Travel Safe Project. The grant will help provide safe car restraints for vulnerable families, so they can travel safely with their most precious cargo, reducing their risk of death or serious injury in a crash.