08 Apr 2021
A confronting exhibition of personal items belonging to people who were either killed or seriously injured on Victorian roads will visit regional centres across the state over the next five weeks.
The Transport Accident Commission and Road Trauma Support Services Victoria developed the exhibition and campaign 'Left Unfinished', which tells the story of seven Victorians who either lost their lives or had their lives permanently changed due to road trauma, and the seemingly ordinary items they left behind or unfinished.
The exhibition of the 'left unfinished' items will spend six days in Warrnambool (Civic Green) from March 30, followed by five-day stints in Ballarat (Bridge Mall), Geelong (Carousel on Eastern Beach) and Bendigo (Hargreaves Mall), before wrapping up in Shepparton (Maude Street Mall) from April 28 to May 2.
Each replica exhibition item is accompanied by the story behind them – either told by a loved one of a person who lost their life, or a person who was injured that recounts their personal story.
TAC Head of Road Safety, Samantha Cockfield, said it was important to take the exhibition and campaign's messages to regional Victoria, after its initial launch and housing at Melbourne Museum last year.
"Regional Victorians are overrepresented in the number of fatalities we see and, tragically, the majority of those deaths are local people on roads close to their home," Ms Cockfield said.
"We're urging people in Shepparton to come and listen to and learn from these harrowing stories, which will serve as a reminder to all of us to never take life for granted when we get behind the wheel," she said.
People visiting the exhibition can learn the emotional real-life stories behind the items on display, while a virtual augmented reality experience can be found online via a QR code, found at leftunfinished.com.au
RTSSV CEO, Bernadette Nugent, said Left Unfinished was a tribute to the seven storytellers, their families and loved ones.
"The Left Unfinished campaign is a compelling and confronting display that aims to encourage all Victorians to think about what they have to lose if they are involved in a serious collision," Ms Nugent said.
"Sadly thousands of Victorian families, including a large percentage of regional Victorians, are impacted by road trauma every year. The seven people who courageously shared their story for this project hope to help people understand the often life-changing and devastating impact of road trauma."
Last year, 126 people died on regional Victorian roads, compared with 85 fatalities in metro areas.
"Far too many people in Geelong and regional Victoria have a 'left unfinished' story, and this poignant campaign lays bare seven very personal and emotional stories about how lives can change so dramatically when the unthinkable happens on the roads," Ms Cockfield said.
"It's so important that we continue to work together as a community to make our roads safer and strive for a future where we don't have families who have to tell stories like this." she said.
For more information contact the TAC's Alex White on 0419 529 505.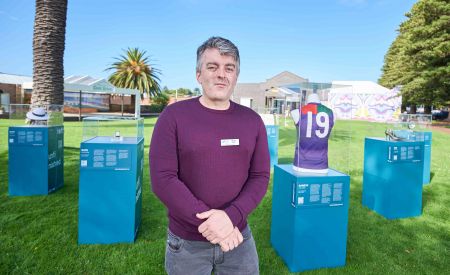 Pictured: Road Trauma Support Services Victoria (RTSSV) Regional Coordinator Rhys Tate at the Left Unfinished regional tour in Warrnambool.
Download Hi-Res
Contacts
Media queries only:
Please refer any other enquiries to: