Women's basketball is set to play an important role in reminding regional Victorian motorists to slow down and drive safely.
The Victoria Government and the Transport Accident Commission (TAC) has announced a new partnership with WNBL team Bendigo Spirit, in an effort to engage with the regional Victorian community on important road safety issues.
Member for Bendigo East Jacinta Allan said an initial two-year agreement will see the TAC and Bendigo Spirit work together to promote safe driving behaviours among fans and drive down road trauma within the community.
Tragically, the City of Greater Bendigo has already seen four road deaths this year – while 22 people have lost their lives on roads across the Loddon-Mallee region, up from 15 at this time in 2021.
Greater Bendigo has a growing population of more than 110,000 people, making the region a critical audience for the TAC to engage with on road safety issues in regional Victoria.
Speed remains a key factor in Victorian road trauma – contributing to around 30 per cent of deaths each year, and 25 per cent of serious injuries.
The TAC will use its presence at Spirit home games to remind fans of the dangers of risky driving behaviours, focusing on the dangers of speed, while fans will also see and hear from the TAC across radio and social media platforms.
With the WNBL achieving a total viewership of more than two million last season, the TAC will leverage the partnership with Spirit to support positive road user attitudes and behaviours within not only the Bendigo community, but right across Victoria.
The partnership also includes supporting the Bendigo region's Access All Abilities (AAA) basketball program – an initiative providing the opportunity for people of all ages to enjoy basketball in an encouraging environment.
Quotes attributable to Member for Bendigo East Jacinta Allen
"It is critical that we continue to engage with Victorians on key road safety issues – this partnership is a great way to remind Bendigo locals how they can keep themselves and others safe."
"Sadly, with the number of people dying on our roads climbing, we are pleading with Bendigo motorists to heed the warning and slow down – it's up to all of us to make our roads safe."
Quotes attributable to Transport Accident Commission CEO Joe Calafiore
"The level of road trauma we are seeing in regional Victoria is deeply concerning, and we are always looking for new ways to reach into local communities and promote safe driving."
"The TAC is proud to partner with Bendigo Spirit to draw focus and commitment to road safety within the region."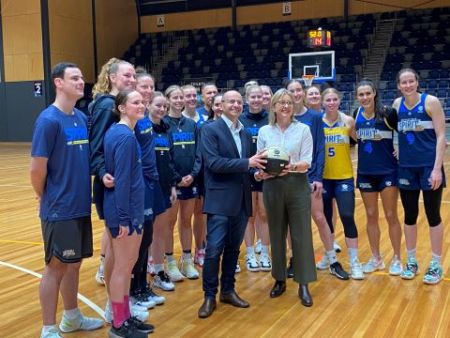 Contacts
Media queries only:
Please refer any other enquiries to: