The Transport Accident Commission and Melbourne Rebels are taking critical road safety messages to regional Victoria through a newly formed partnership.
Melbourne Rebels players and officials traveled to Geelong on Saturday for local rugby team the Geelong Rams' annual sponsors day, the first of a series of Rebels regional outreach programs, supported by the TAC..
While the visit was an exciting opportunity for the grassroots rugby community to interact with elite-level players, it also aimed to promote road safety and the TAC's partnership with the Rebels.
The TAC is the official partner of the Melbourne Rebels Regional Tour, allowing the TAC to directly engage with more Victorians, particularly in regional and rural areas, where road trauma is consistently higher.
Of the 147 lives lost on Victorian roads this year, 84 have been on regional roads – compared with 63 the same time in 2022. In the Barwon South-West region, 18 people have been killed – compared with 13.
The Melbourne Rebels will return to Geelong for their Regional Tour next month, as well as also visiting Mildura, Shepparton, Ballarat and Bendigo between July 21 and 28.
The partnership will also see all Premiership and Premiership Reserve Shield Clubs, in conjunction with Rugby Victoria, take part in a dedicated 'TAC – Road Safety Round'.
TAC Acting Chief Executive Officer Tony Dudley said partnering with the Rebels provided a new and unique platform to promote road safety in and through Victoria's Rugby Union community.
"The TAC is always looking at new ways to connect with more Victorians and partnering with the Melbourne Rebels will help us engage with a new cohort of sports fans right across Victoria," Mr Dudley said.
"Fatal and serious crashes are consistently higher on regional and rural roads and this partnership will allow us to place road safety front of mind with more country Victorians," he said.
As part of the partnership, Rebels staff, players and pathway participants will all receive three road safety education sessions a year.
TAC clients will also have the opportunity to gain valuable work experience and job opportunities with the Rebels, the chance to participate in dedicated training sessions.
Melbourne Rebels CEO Baden Stephenson said the partnership only further solidifies the club's connection to the community.
"We're so proud to be working side by side with a partner who is driven to connect with more Victorians across our great state and create a safer community for the next generation," Mr Stephenson said.
"The Melbourne Rebels' partnership with TAC will allow us to promote the value of road safety to our rugby community through proactive intitatives."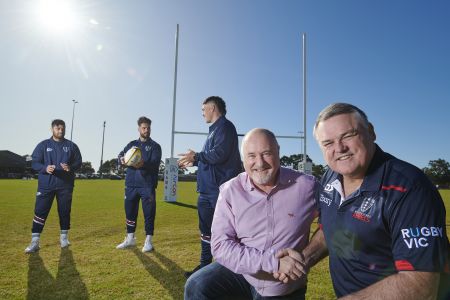 Contacts
Media queries only:
Please refer any other enquiries to: