Gareth – Football jumper
The number 19 was a bit of a tradition for Gareth's family. Decades after his grandfather wore it on the footy field, Gareth picked the same guernsey to run out with his local footy club in Birchip. As well as playing senior footy, the 19-year-old coached the local under-16s. Country footy was a connecting force in the community and the family – Gareth, his parents and three older sisters – were familiar faces at the oval every weekend.
The family business was in steel fabrication and Gareth had joined his dad as a welder and ultimately would take over the business. They did just about everything together – fishing, watching footy – but it was their shared passion for steel work that really connected them.
The last time Gareth pulled on the number 19 for the Birchip-Watchem Football Club was in April 2010. It was an unseasonably hot day and he and his beloved Bulls fought for a victory. Gareth was one of the players named among the best on ground. Afterwards, he handed his car keys over to his mum as he headed to the pub to celebrate the win. They had a pretty quiet night and a friend dropped Gareth home. But early in the morning his mate called, so Gareth grabbed his keys to go support his mate without a second thought.
Gareth should have been attending a footy coaching course the next morning. Instead, his family was learning that he had fallen asleep at the wheel and his car had veered down an embankment. Gareth was gone.
The community turned inwards to support the family. More than 1000 people gathered for Gareth's funeral service – so many that it had to be moved from a small church to, fittingly, the footy oval.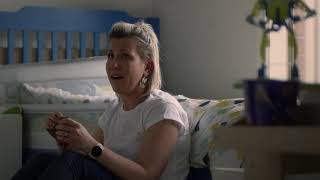 Josie tries her best to describe to her two kids, Xavier and Maddy, what their uncle was like. She shows them his purple, green and red footy jumper and talks about the heart and passion he had for his footy. The club retired the number 19 for a while, until Josie and her husband Cam headed back to Birchip and Cam pulled on the strip for two seasons. Xavier and Maddy are just as footy-mad as their uncle was and Josie knows if they ever run out one day the number 19 will be on their backs.