Executive Leadership Team
Joe Calafiore, Chief Executive Officer
Joe joined the TAC in August 2008, bringing with him strong public policy and communications experience gained from a range of government, media and communication roles.
He was appointed CEO of the TAC in July 2015, having previously been Head of Community Relations, responsible for road safety, marketing, communication, legislative and legal functions.
Prior to joining the TAC, Joe was a Senior Advisor to the Victorian Minister for Police and in the challenging portfolios of transport, major projects, finance (including WorkSafe and TAC) and industrial relations.
Born and raised in Geelong, Joe is committed to improving the region's future as a member of the Committee for Geelong's strategy and policy committee.
In 2018, Joe was appointed to the Kardinia Park Stadium Trust. He is also the Chair of the Finance, Audit and Risk Committee.
He holds a Master of Commerce from the University of Melbourne and maintains a healthy interest in public policy and communication issues.
Tony Dudley, Chief Financial Officer, Head of Business Enablement
Tony was appointed Chief Financial Officer in February 2012 after spending five years as the Chief Financial Officer with the Victorian Managed Insurance Authority. The VMIA is one of the three Victorian State Government insurance entities that provide risk management and insurance services to all government department and agencies.
Prior to this, Tony spent more than a decade as financial controller for Australia's largest private health insurer, Medibank Private.
He currently heads a dedicated team of professionals who provide a wide range of support services for the TAC including capital management, financial services, procurement, business continuity planning, corporate legal, assurance and corporate secretariat, forensic analysis and investigations, risk and compliance services, project delivery, research, business intelligence and corporate oversight for information technology shared services.
Jane Barker, Head of People and Culture
Jane started with the TAC in 2012 and was appointed to Head People and Culture in 2014.
She is an experienced HR leader, change manager, organisational consultant, facilitator and coach. Prior to joining TAC, she worked across a range of industries and organisations including National Australia Bank, Bank of New Zealand, RMIT University, Mayne Health, Department of Human Services, Department of Sustainability and Environment and within local government.
Jane brings strategic and operational experience working with large, complex global organisations, small business and the health, education and public service sectors. She has held senior management roles in cultural change, organisational and leadership development, change management, facilitation and executive coaching.
Jane's qualifications include: Master of Business Administration, Swinburne University, executive coaching qualification – level 1 and level 2, Prosci change management accreditation.
Jane is an accredited facilitator in behaviour profiling and transformation facilitation, targeted selection and motivational interviewing.
Liz Cairns, Acting Head of Strategy
Liz joined the TAC in November 2016 as the Head of the Independence division, bringing considerable experience as a senior leader in disability insurance, particularly in transformational leadership.
Liz spent many years working for New Zealand's Accident Compensation Corporation, where she designed and implemented the National Serious Injury Service (NSIS). The program introduced specialist claims management for clients living with permanent and significant accident trauma impairments.
As a result she was awarded the 2010 Personal Injury Education Foundation (PIEF) Award for 'Outstanding Contribution by an Individual.' Liz used the award to travel overseas for leading practice learning in spinal cord and brain injury rehabilitation.
Prior to joining the TAC Liz worked with Price Waterhouse Coopers in the implementation of the National Disability Insurance Service (NDIS). She moved to Geelong in 2012 to join the NDIS trial site and in 2014 was made General Manager of Operations for the NDIA.
Liz has an undergraduate degree in Social Work, a post graduate Diploma in Case Management and a Masters in Management (Personal Injury). She boasts extensive networks across disability, rehabilitation and social insurance sectors.
Until recently, Liz was a Director of the Personal Injury Education Foundation and has recently become a Director of the TAC's Residential Independence (RIPL) Board.
Damian Poel, Head of Supported Recovery and Independence
Damian joined the TAC in 2007 and was appointed to his current role as Head of the Supported Recovery Division in November 2016. He has developed a track record for outstanding people leadership, working with partners and delivering for the TAC's clients.
Prior to joining the TAC Damian worked as a Senior Speech Pathologist across Australia and Ireland in health, education and disability roles and has an education background in health, arts and leadership.
He has been a key contributor to the development of the TAC's 2020 Strategy and is focussed on the reform needed to assist the TAC's Supported Recovery clients and help create a world leading offering for the Victorian community.
Damian has a Bachelor of Arts (History and Politics) from the University of Adelaide, a Bachelor of Speech Pathology from Flinders University and a Master of Business Administration (Management Specialisation) from Edith Cowan University.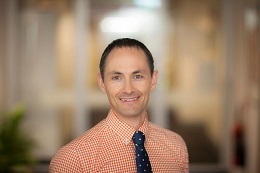 Brad Kemp, Head of Information Technology Shared Solutions
Brad has been with the TAC for 8 years. For the past 4 years, Brad has led the transformation to a pay-as-you-go consumption model for IT services via an outsourced, hybrid cloud model to improve the way technology services are delivered to the TAC and WorkSafe. In his previous role as General Manager IT Service Delivery, Brad chaired the infrastructure uplift program and was a significant driver to improving the customer satisfaction of IT services.

Before the TAC, Brad spent 7 years at the RACV in various technical and management roles in a technology transformation program aimed at improving the way services are delivered to its members.

Brad has a Bachelor Computer Science/Mathematics degree from Monash University, several Project and IT Service Management qualifications and is in the final year of his Master Business Administration (MBA) at Deakin University.
Natalie McColl, Head of Rapid Recovery
Nat was appointed to the Head of Rapid Recovery role in February 2019. With a passion for service excellence, human centered design and delivering meaningful outcomes for customers, Nat brings with her an established record in exceptional people leadership and business transformation.

Nat holds a Bachelor of Commerce (Economics and Law) and is an accredited change practitioner and Executive Coach. Prior to joining the TAC she worked as a consultant supporting private and government organisations shape business functions, execute cultural change and deliver corporate outcomes.

Since joining the TAC, Nat as held a number of key senior leadership roles across the functions of People & Culture, claims management and service renewal. Nat has expertise in service design, liability management, operational delivery and transformation strategies.

As TAC's Head of Rapid Recovery, Nat leads a large team of dedicated employees responsible for the delivery of service and support to approximately 30,000 injured Victorians each year.
Andrew Holt, Chief Risk Officer
Andrew joined the TAC in January 2018 and was appointed as the Chief Risk Officer in March 2019.
He brings over 20 years of risk management, internal audit and strategic leadership experience from the private, public and not-for-profit sectors. He has held domestic and international management positions in the financial services, higher education and retail industries.
Andrew promotes a strong balance of risk consideration with strategy development and execution to ensure confidence in the delivery of road safety initiatives and positive outcomes for TAC clients.
He has a passion for advocating the rights for people with a disability and their networks and has been active in the disability sector since the inception of the National Disability Insurance Scheme, including a number of years as President of Interchange, a national provider for disability and respite services.
Andrew holds a Bachelor of Business (Finance) from Monash University and is a member of the Risk Management Institute of Australia.
Jason Lardelli, Head of Scheme Performance
Jason joined the TAC in 2017 and was appointed to the Head of Scheme Performance in 2020.
He holds extensive personal injury insurance experience from scheme design and management to client outcomes, in both public and private sector organisations in New Zealand and Australia.
He spent 10 years with the New Zealand national scheme, ACC, culminating in his work as National Performance Manager overseeing the claims performance function of 1.6 million claims per annum. Jason then accepted a role as General Manager of Claims and Liability Management for the Australian federal scheme - Comcare, based in Canberra.
Prior to joining the TAC Jason worked with Employers Mutual Ltd (EML) in Sydney as General Manager NSW Workers Insurance Claims Division, then as General Manager, Federal Government Services where he led specialised personal injury claims initiatives with organisations such as the Department of Veteran's Affairs, Australian Bureau of Statistics and the ACT Government.
Jason has also served as a board member of the industry's Personal Injury Education Foundation (PIEF). He currently serves on several agri-business boards in New Zealand.
Jason holds a Bachelor's Degree in Economics from Waikato University, Hamilton, New Zealand (2005) and a Master's Degree in Health Management from Massey University, Wellington, New Zealand (2011).
Samantha Cockfield, Head of Road Safety
Samantha Cockfield is the Head of Road Safety at the TAC, responsible for the development and delivery of the TAC's road safety strategy which spans road infrastructure, vehicle safety initiatives and a range of programs designed to improve road user behaviours.
Sam started with the TAC as a graduate economist in1990, working through the claims areas before gaining a role in the newly formed road safety team in 1992. Her first role was developing the TAC's first accident blackspot program. Since that time Sam has led the development and delivery of numerous behavioural programs including many of the TAC's iconic public education campaigns.
The Accident Black Spot Program was transformed by Sam into the current Safe System Road Infrastructure Program. This ten-year project dedicated to systematically improving the safety of road infrastructure across Victoria, is one of the largest programs of its kind in the world.
Sam has dedicated her career to the elimination of death and serious injury on the road - advocating for road safety both regionally and internationally. She has considerable experience in strategy development and is considered an international expert; mentoring road safety practitioners and providing advice globally.
She was awarded the 2017 Australasian College of Road Safety Fellowship in 2017 and in 2020 was a member of the Academic Expert Group providing recommendations to the United Nations for global road safety collaboration to 2030.
Jo Whyte, Head of Marketing and Communications
Jo was appointed to the role of Head of the Marketing and Communications, TAC in September 2020.
She has over 20 years of experience as a senior strategic marketer and communications practitioner. Her career spans various service delivery industries and across private, public and government organisations within Australia and overseas, including: City of Melbourne, Australia Post, REA group, AAMI/Apia (Suncorp) and Telstra.
Jo is passionate about connecting brand purpose and organisational goals to the creation of innovative marketing and communications programs that deliver valued outcomes for customer, community, employee and stakeholder groups.
Jo holds a Bachelor of Business (Marketing) degree and a Graduate Diploma Business (Management) from Monash University, Melbourne.