Case study of a Permanent Impairment
Barry's story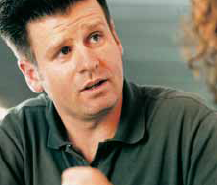 Barry was the driver of a vehicle in a head-on collision. As a result of the accident he had a head injury, a broken wrist and a fractured pelvis. Barry had various operations on his pelvis and wrist to help heal the fractures.
Barry was having headaches and memory problems as well as difficulty moving his wrist following the accident. He was also seeing a counsellor to help him with psychological difficulties he was having as a result of the accident.
After gathering medical information about Barry's injuries, the TAC asked Barry to attend medical examinations with an orthopaedic surgeon to assess his wrist and pelvis impairment. He also had to attend medical examinations with a neurologist, neuropsychologist and psychiatrist to assess the head injury and his psychological reaction to the accident.
The orthopaedic surgeon found that Barry's pelvis had healed fully with no permanent impairment. An impairment rating of 3% was allowed for the wrist because of restrictions in movement. The neurologist found that Barry had an impairment of 5% for his head injury due to ongoing memory problems. He used the report from the neuropsychologist to help in reaching this conclusion. The psychiatrist found that Barry had a 5% impairment from ongoing psychological difficulties following the accident.
Barry's lump sum coordinator reviewed this information along with all of the information on his file and using the prescribed mathematical formula determined that Barry's whole person impairment combined to a rating of 12%. This resulted in Barry receiving a lump sum payment of $9,530*.
*These figures are indexed yearly