Home modifications
What are home modifications?
Home modifications are changes made to your home to improve your safety and independence. This could be something simple like a hand rail or access ramp or more complex major structural work.
What is the process for home modifications?
modify your existing home,

buy a new home, or

build a new home
we can provide a dedicated TAC home modifications specialist to help you manage the process. The TAC home modifications specialist can:
Be your main point of contact.

Arrange a meeting at your home with an occupational therapist (OT) who is experienced in home modifications.

Review the report of the OT and make a decision about your home modifications.

Approve the home modifications you need to improve your safety and independence.
The TAC can refer you to a Project Management company. We can arrange a project manager who will:
Supervise and work with you, or your representative, to complete your home modifications on time and within budget.

Prepare a project plan and work out how much the modifications will cost.

Use their building expertise to let you know what modifications can be built at your home.

Choose a suitable builder from the Project Management company's list of builders.

Help you with the design, quote and build of the works.
See also: Occupational Therapy Policy.
How much will the TAC pay for home modifications?
We can pay the reasonable cost of the home modifications you need because of your transport accident injuries to improve your safety and independence.
We will consider recommendations from your occupational therapist and treatment team when making decisions about your home modifications. There are a number of restrictions and requirements you will need to be aware of.
See the Home modifications policy for details about what we can and can't pay for.

How to send documents to the TAC
myTAC
myTAC is the quickest way to:
Submit receipts and claim reimbursements
Send documents and forms
Update your personal and banking details
Find out about treatments and services the TAC may pay for
Email
If you can't use myTAC to send your receipts or documents, please take a photo and email it to us at info@tac.vic.gov.au. Include your claim number in the subject line of your email so we can process your request.
Summary
This brochure describes the process for project managed home modification. It also lists the roles and responsibilities of the people involved.
We're here to help you get your life back on track after your transport accident. To help you access your home, we can pay for reasonable changes to its structure, layout or fittings (known as home modifications) when they are needed because of your transport accident injuries. This may include creating safe access to parts of your home.
There are differences between home modifications and home renovations. If you decide to complete a home renovation, for example to:
make your home new again,
repair or restore your home to good condition, or
alter the layout of your home, and
these renovations are not needed as a result of your transport accident injuries we cannot pay for them.
What home modifications we will pay for
We will pay for:
Simple home modifications, such as a hand rail or an access ramp.
More complex modifications, involving major building/structural work, such as widening doorways or installing stepless showers.
For equipment that can easily be installed, such as grab rails, see our Equipment policy.
For your safety, we need to make sure that it is reasonable to modify your home.
We can only consider modification to the parts of your home you need reasonable access to, for example:
To enter and leave your home
Bathroom
Bedroom
Living area
Dining room
Kitchen or basic cooking facilities, when you are involved with the preparation of your own food.
We will consider modifications to your primary residence only where you intend to remain living at the residence.
If you live in a rental home, we will need the agreement of the property owner before any modifications can take place. We will consider how much time you spend at the home when we work out a reasonable amount we can pay for the construction of the home modification.
We can consider the reasonable modifications to a holiday home, secondary place of residence or a caravan where it is a necessity that you need access. For example, if you are a child under a shared custody arrangement who needs to access separate residences.
In some circumstances we may approve home modifications as a multi-step process.
Temporary accommodation
Making changes to your home is a big decision for you and your family. If needed, we can consider temporary accommodation while your home is modified. This includes paying the reasonable cost of short to medium term accommodation in an accessible property, hotel, motel or serviced apartment.
We can only continue to pay for temporary accommodation while you are participating and engaging with the TAC home modifications process to ensure that your home modifications are completed in a reasonable time. If we have concerns about your participation, we will let you know in writing and tell you what you need to do so that we can continue to pay for temporary accommodation. If you don't meet these requirements, we may stop paying for temporary accommodation.
We can only pay for temporary accommodation when the building works are being undertaken. This excludes circumstances such as the time taken for land to title.
We will consider the recommendations of the occupational therapist in assessing suitable temporary accommodation, but you will need to get approval from us to pay for any temporary accommodation costs before you move in.
Alternatives to home modifications
In some circumstances your home may not be suitable for modification. This includes circumstances where the value of the modifications is more than the value of your residence.
In these circumstances we can pay:
The necessary reasonable cost to relocate you to another home that is suitable and capable of being reasonably modified,
Temporary accommodation while you are actively engaged in the home modification process.
Alternatively we can contribute a reasonable amount towards the cost of the provision of a semi-detachable portable unit that can be placed on the property of your main residence.
In some circumstances, home modifications (particularly things like structural work) may not be possible, safe or reasonable. This might be due to the appropriateness of your home or your individual circumstances. These circumstances will be identified by the project manager, builder or other relevant party.
Where a modification cannot be made due to illegality, access issues or where the cost of overcoming these issues is more than the value of your home, we will look at other potential reasonable solutions.
Moving to a new home
If you choose to move home after your original home has been modified and the "new" home needs modification, we will consider many factors when deciding whether we will contribute to the cost:
If the new home is appropriate to meet your needs related to your transport accident injury
The amount we paid for previous home modifications
The reasonableness of the frequency of home modifications due to relocation or changes of ownership
The purpose of the home modifications.
If you move to a home that cannot be reasonably modified, we will generally not pay the cost of the modifications. For example, if you choose to move to a multiple level home that requires a lift, we will not pay this cost.
If you choose to build a new home or renovate your existing home, we can contribute to the specific extra costs that relate to your transport-accident related needs. For example, if you want to build a new home, we may pay the difference in cost between a normal oven and a disability-specific oven.
We can provide an occupational therapist to help you with your home selection process and we will work with your treating team to make sure that the home you are moving to can be reasonably modified.
If, in our opinion, the home you are moving to cannot be reasonably modified, we can't approve modifications. To make sure that the new home you choose is appropriate, we encourage you to contact us as soon as you can so that we can help.
Rental home
If you lived in a rental property before your accident, we can consider modifications to the rental property. We need the agreement of the property owner before any modifications can start. In general we will only approve minor modifications to private rental properties because we don't know how long you will live there. If you have, or can enter into a three year lease, we will consider the approval of minor modifications.
If modifications are made to a rental home and you leave the home, we are responsible (if requested) to return the rental property to the original condition.
If the home is not suitable for modification an alternative private rental property should be sourced. In those circumstances, the occupational therapist should review the home before you sign the lease to make sure that it will meet your needs.
External covered transfer area
If, because of your transport accident injuries, you are unable to control your body temperature (T6 spinal injury or above) and you use a wheelchair, we can consider the reasonable cost of a covered transfer area from your vehicle to your wheelchair.
We may also consider a covered walkway to access your home for a T6 injury and above.
If you are ambulant, we cannot contribute to either a transfer area or a covered walkway.
Heating and cooling
If, because of your transport accident injuries, you are unable to control your body temperature we can consider the reasonable cost of a reverse cycle split system to your bedroom and main living area.
Home automation
We can consider paying the reasonable cost of necessary home automation modifications when you need them due to your transport injuries, and when these modifications will clinically increase your independence and your ability to complete functional activities.
Laws and regulations
Home modifications are subject to the regular laws, regulations and rules that govern home renovation and construction including:
Building Code of Australia
Australian Standards for Disability & Access
Liveable Housing Design Guide
Domestic Building Contracts Act 1995
Building Act 1993
Project Development and Construction Management Act 1994
We cannot pay for any modifications that do not meet these rules, regulations and laws.
How the process works
The first thing to do is to contact us. If you want to modify your existing home, buy or build a new home, we can allocate a dedicated home modification representative to help you manage the process and be your contact person.
We will arrange a meeting at your home and organise a consultation with an occupational therapist so they can assess your needs, goals and outcomes.
The occupational therapist will:
Assess your situation, the suitability of your home and your injuries,
Consider the capability of your current residence,
Provide a detailed report to us that outlines your needs,
Make recommendations about what modifications are needed.
Once we have reviewed the report, we will refer your recommended home modifications to an external project manager. Once the project manager has prepared a project plan and provided an appropriate cost estimation, we will let you know what modifications have been approved.
After your modifications have been approved
You will receive in writing:
Formal approval of the home modification request,
The schedule for works,
The relevant documentations,
Details of all the modifications we approve.
You may need to sign a Capital Services Agreement.
Your TAC appointed project manager
We can appoint an external project manager who will:
Conduct site visits,
Arrange designs and explain them to you, so that you understand how your home will change,
Engage a builder after a quote or tender process.
The project manager will need you to sign-off the designs and sign the building contract. They will keep you informed of the schedule for the delivery of your modifications, ensure the quality of the work and compliance with any applicable laws or regulations.
The project manager will conduct regular site visits. Once the modifications are complete they will conduct a final inspection, which we may also attend (if required). It's important that you attend this final inspection meeting, to make sure that you are happy with the modifications.
Capital services agreement
You will need to sign a contract called a Capital Services Agreement (CSA) before any work on the modifications can begin. This contract is required when the cost of the modifications are more than the Capital Service Agreement Limit. The CSA outlines the roles and responsibilities of each party including:
Frequency of modifications,
Subsequent modifications, and
Ownership, including notification of change of ownership.
Under the contractual agreement we are unable to contribute towards the cost of modifying a subsequent home that you own within 8 years after the original modifications, unless there are exceptional circumstances that require you to move. If this is not the case, you are expected to pay for modifications on your next home yourself.
How much we will pay
We will pay the reasonable cost of home modification, relocation or semi-detachable portable unit where your home is not capable of being modified.
We will take into account the recommendations of your occupational therapist and treatment team when we make a decision.
If you are renting, we can pay a reasonable amount towards the modifications that you need for your transport accident injuries, taking into account the period of your lease and the permission of your landlord.
Where significant modifications are needed, you may ask for extra work, but if the extra work is not related to your transport accident injury then you will have to pay for it.
What we won't pay for
We cannot contribute to, or buy, a residence for you. We also cannot pay your rent.
We cannot contribute to your home renovations.
We do not pay for additions to your home, such as pools, spas or landscaping.
We also cannot pay for home modifications that:
Are for a person other than you,
Are not reasonable, necessary or appropriate,
Are not clinically justified, safe and effective,
Where the owner of a property, body corporate or other responsible authority has not given permission for modifications,
Are illegal or do not comply with the relevant laws, regulations or planning permissions.
We do not pay for the connection of services to your modified home.
We do not pay for home maintenance or repairs:
These include instances where the building works to modify your home identify incidental structural or safety issues that need addressing, such as faulty wiring, plumbing or restumping of the premises.
Once modifications have been made, it is your responsibility to maintain their condition. This requires you to take steps to keep the modifications in a safe condition and to avoid damage other than "fair wear and tear" to them.
Where you have signed a Capital Service Agreement with us, this agreement outlines your responsibility for ongoing costs and maintenance.
If a modification has been made or installed improperly, the costs associated with repair or to reinstall are the responsibility of the tradesperson or builder.
Rick and Ornella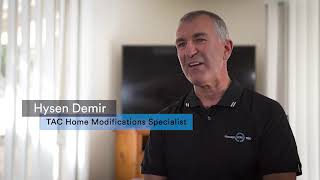 Rick: Life before the accident for us was very, very different.
The modifications to our home just means that we're able to live far more independently than we were.
It means that we're able to shower. We're able to cook.
Carol: So my role was to look at what modifications would be required for optimal existence in the home.
Hysen: Once you have a site assessment with an occupational therapist, that all the client's specific needs and goals are assessed.
And from that you determine what additional works will need to be done.
Ornella: We can move around quite freely.
Carol was involved in letting us know what we could have and what we should have.
Rick: An uneven slate floor for instance. You need to have that replaced with a non-slip surface.
Carol: We walked around the home and we thoroughly discussed what the options might be.
And then we can look at brainstorming on the spot. We did everything on site, so that Ornella and Richard could be actively involved in that process.
Ornella: And they were very accommodating if we didn't like something. Or didn't think that we needed it, you know.
We'd work it out between all of us and we got what we were all happy with.
TAC clients Rick and Ornella talk about the home modifications process. We also hear about the role of their Occupational Therapist and the TAC's role in approving modifications.
Darren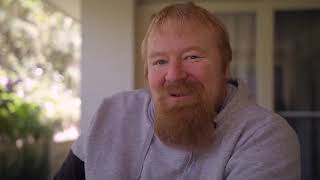 Darren: My name's Darren Knight.
I'm currently away from home in Blairgowrie, while renovations on my home in Frankston are getting done.
I'm lucky to be in a nice area while it's all getting done.
Choosing where to stay was left to us to work out.
Where and when, and how we wanted to stay.
We had stayed at the Quest previously, which it felt like you were living in a bit of a box.
So we sort of looked around and then found this place.
And we thought, "Yeah, this is quite good."
At first finding a place to stay was a little bit daunting, because you think ah okay and that.
But then once you got good at googling, it's quite easy.
Especially in my situation, where you got to have a few mods and cons to make life a bit easier.
The only thing that changes is your address really.
Down here's like a little bit of a holiday I suppose.
The initial conversation of the mods started in February.
That was a general get together and we spoke about what was needed.
Then they went away and put all their thoughts together and then came back with a bit of a plan.
From then it was quite quiet for a little while.
I thought okay it'll be a while before anything happens.
September they came back and they virtually said "we'll be starting in a couple of weeks."
While I was in rehabilitation we did a home visit there, and from that home visit sort of worked out what had to change back then.
They put a portable bathroom in, outside which gave me accessibility there. We tried to work out a
ramp for the front door which the gradient was going to be too much for the space we had.
So they actually put in a lift. Apparently it was one of the first as well.
I feel privileged.
And yeah, made life very easy.
Transition from rehab to home wasn't too bad at all really.
With the bathroom, I could not get into the bathroom at all because of the width of the door.
Even if I did get access to the bathroom there was no... I couldn't get into the shower facility or anything.
With they kitchen I found it hard to access the sink. All the cupboard spaces were all up high of course, which made it hard to reach.
Cooking was very difficult because everything was right in your face.
You cook a sausage and you wore half of it before you got to eat it.
I think it was 50/50 thing with the decision making of the build.
Made it easy actually because I had ideas but I didn't know how it was going to work in practice and so forth.
They all threw in their ideas and made it very easy.
They brought various selection of samples so you could choose what you want.
My wife had a big input into what was going to be used which was good.
Made it easy for me.
Once that were chosen that was a couple of days later that it was all finalised to go ahead.
Looking forward to going home and being actually able to access the bathroom, which has been quite a while.
Then I've got to do a bit of cooking now, which is going to be interesting because my wife sets a pretty high standard in the cooking section.
So I'll have to up my game a bit I think.
Not been cooking or washing the dishes because I can't do it, I'm sure I'm going to have to put my hand into now.
TAC client Darren talks about his experience with TAC approved home modifications.